Chris took part in the Great London Swim tomorrow, Saturday 31st of August, where he swam 1 mile at 11:00 in the morning. It took place at the Docklands Sailing and Watersports Centre at Millwall Dock.
Here you can see the site plan and the course that Chris took:
Site Plan
Course Map
Post Race
Chris finished 158th out of 5,000 other contestants with a final time of 25 minutes and 47 seconds.
Well done Chris!
Simon's 55 mile ride
Simon took part in the London to Windsor, 55 mile ride on the 8th of September, helping to raise money for charity. 2000 other riders took part.
The ride took place from Richmond Green through the villages of the Thames Valley through to Alexandra Gardens in Windsor. When reaching the finish line, riders were able to enjoy a variation of food stalls, beer tents, music and entertainment.
Below you can see a map of the ride: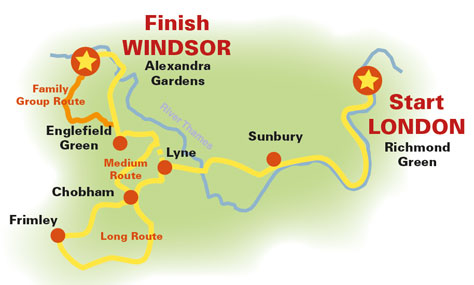 Simon took a total of 3 hours and 24 minutes to complete the ride. Great effort Simon!